Scotland Programme Manager
Scotland Programme Manager
Why is this role open?
We're hiring a Programme Manager (PROM) to support our Scotland community.
This person will drive a growing programme across Scotland; ensuring that our trainees are prepared for employment and that the CYF community of trainees and volunteers is healthy and thriving.
ABOUT CYF
CYF creates a unique, supportive learning community for people with the most limited economic, social and personal resources. All our classes are free and all our teachers are volunteers.
We train our people in software development and support them into well paid, highly skilled, professional careers in tech. We really do this and it really works.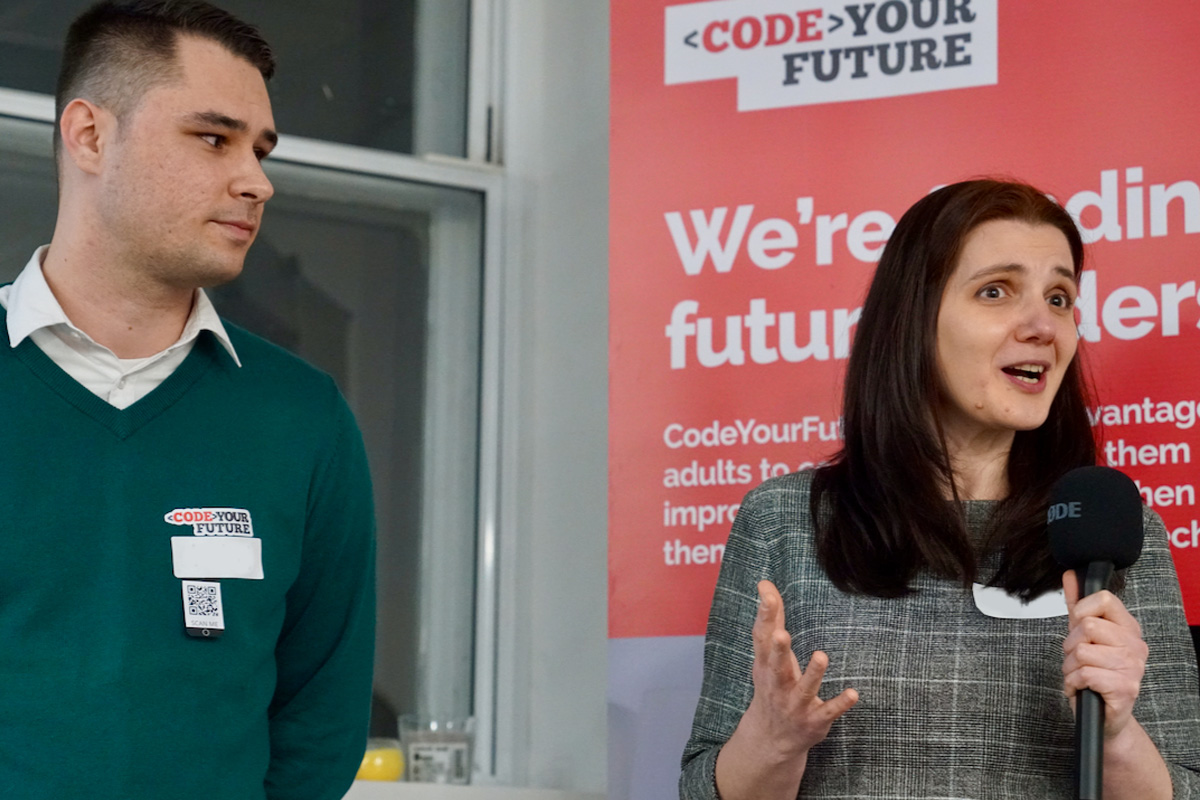 Why would you do this job?
You passionately believe that everyone deserves a thriving life

You understand the power of vocational training and how it can change people's lives

You want to build strong and inclusive communities

You deeply care about social mobility and create tangible change in people's lives

You love working with people to ensure high-quality results
The Role
The PROM mission is to build and support a vibrant local community which is responsible for the delivery of our programme. The Scotland PROM will focus on running each cohort while working on expanding local activities. This includes coordinating volunteer activity, tracking trainee progress & welfare, developing CYF processes and working on building partnerships which help CYF grow in the region.
Key Areas of responsibility
Community-led project management:

The right candidate has a track record of empowering volunteers and communities to deliver successful projects.
Ensure top outcomes for our trainees:

The right candidate knows how to empower volunteers to get the most out of our trainees
Business development:

The right candidate demonstrates the ability to grow the programme & CYF's activities in Scotland through partnerships & business development.
What will you be doing?
Facilitating volunteer activities by building self-empowered teams:

providing resources, structure and guidance to a team of approx. 100 volunteers, ensuring they have what they need to deliver high-quality support to trainees

Tracking trainees' performance

with the Scotland community and reporting data to relevant teams

Coordinating activities with all CYF regions

to ensure Scotland's activities align with other CodeYourFuture communities globally

Building networks with local NGOs and charities

to provide holistic support to our trainees and better integrate our programme into the local community.

Building a network of partners in Scotland

to help grow our activities to impact more people.

Coordinating the volunteer Leadership Programme in Scotland

with the global team

Recruiting volunteers and trainees

with the support of the outreach team
The ideal candidate for this role brings:
Experience in working with grassroots organisations & managing volunteers.

You should have experience working with and supporting volunteers.

Experience working in or with diverse communities:

An understanding of, and empathy for, the issues that may face the trainees attending CYF.

Strong attention to detail and project management skills:

You should demonstrate a proven record of project management experience.

Strong relationship-building skills:

You should demonstrate a history of building effective relationships with charities and

/or bu

sinesses

Self-driven work ethic:

You'll have significant control over the way that you spend your time to be the most impactful
In order to be successful in this role you should be:
A quick learner: you should be able to pick up new skills quickly and be willing to develop a basic understanding of the technology that we use.

An effective communicator, especially remotely: you should be able to manage meetings and teams both remotely and in person

Open-minded and encouraging of input from experienced volunteers

Able to take weekly calls in the evening and work on some Saturdays (there is flexibility in working hours)

Enthusiastic about problem-solving in a growing organisation

Fluent in English

Passionate about improving access to vocational training for refugees and other disadvantaged people
And have:
Attention to detail, you will need to manage & report data on a weekly basis

Strong prioritisation skills, what

has

to be done over what

could

be done

Interest in software development and coders:

You are interested in new technologies and the opportunities it creates

Interest in building self-organised teams and empowering team members:

You understand the principles of developing empowered volunteer teams
ROLE SPECIFICS
Salary:

Salary is negotiable according to experience - in private and/or grassroots organisations.

Contract: Full-time
Location:

based in Glasgow (with UK work permit)

Benefits: flexibility in time management - working remotely & self-ownership.
Reporting to: CEO
Application process
Read and reflect on our values and working principles.

Apply with your CV and Cover Letter sharing why you want this role and how your experiences and skills match the JD. Note:

only apply if you are sure you're aligned with CYF values. Please send your CV and Cover Letter to apply at codeyourfuture.io.

The CYF team will review your application and if it appears you are a good fit for the role, we will invite you for a 45min behavioural interview.

If you're successful in the behavioural interview, you'll be invited to work on a challenge to demonstrate your ability to work with the community. For that, you will gather insights and translate them into an actionable plan - you'll have two weeks to complete this task.

You'll present your findings to CYF staff and key volunteers from your region.