Digital Literacy Program Manager
Why is this role open?
We want to expand access to tech training that changes people's lives.
There are more opportunities than ever, but most people cannot take them, because they lack foundational digital skills.
So now we need to build a new bridge, one that supports people to take their first steps into digital literacy.
ABOUT CYF
CYF creates a unique, supportive environment for people with the most limited economic, social and personal resources. All our classes are free and all our teachers are volunteers.
We train our people in software development and support them into well paid, highly skilled, professional careers in tech. And we really do this; it really works.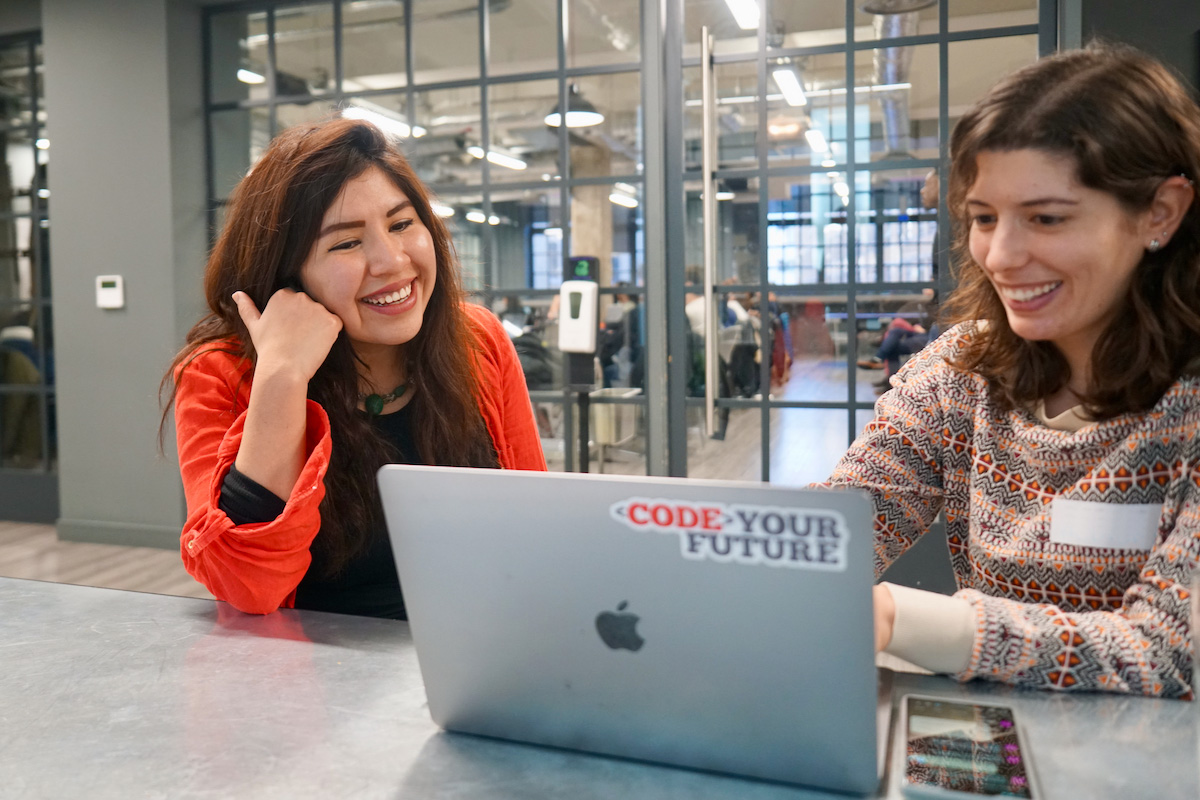 What is the vision of the Digital Literacy Program?
11.3 million people do not have the digital skills needed for everyday life in the UK. Our goals are to:
Move participants from passive consumers to active citizens of their digital world

Develop advanced skills around browsing, search, gestures, navigation and online financial transactions

Tell participants about career options in the technology sector
Who are we looking for?
An experienced Program Manager. You know from experience the intrinsic challenges and opportunities of working with volunteers

You are sensitive to the diverse backgrounds of the people we serve

You are looking to fulfil a mission through your work and not just looking for a new job

You are comfortable with offering and receiving candid feedback

You can trust and encourage others to do great things

You don't mind travelling across the UK

You are someone who can think and dream big. You're probably already thinking about how this program can be expanded in the UK and beyond.

You have a growth mindset: you like to constantly improve how things are done, get feedback, and support trainees, volunteers, and stakeholders in becoming the best version of themselves.
This is for you if you...
Have experience of fast-paced corporate/startup/for-profit environment

Are looking for fulfilment by working for a

practical

social impact organisation

Care deeply about communities and have experience in skilled volunteering roles

Want to see people improving their lives in a tangible way

Adapt quickly to change

Don't mind working flexible times that include evenings and weekends if/when needed

Have experience working with vulnerable communities, government and/or edtech
We promise that you will*…
Be able to organise your working hours based on your priorities

Not be micromanaged

Work with kind and professional people that care about the work they do

Work for a team that encourages others

Be given the encouragement to pursue your ideas and initiatives

Be given the freedom to achieve your goals

Decide how you best achieve your objectives
*Read our values and principles
ROLE SPECIFICS
Salary: £25,000-£35,000 pro rata
Hours: full time or part-time
Contract: Six month grant funded contract (extendable)
Location:

based in the UK (with UK work permit)

Benefits: lots of flexibility in terms of time management, working remotely, self-ownership.
Reporting to: Founder CEO

& supported by Iraqi Innovators
Application process
1. Send your CV and a letter to german at codeyourfuture.io with the following: 
Why you want to work with us 

Why are you a good fit for this role. 

Questions you have about the role
2. We organise a screening call and give you a challenge around the project that you can work on within a few hours
You present to us

Start working with us and embark on an impactful career