We believe in a future where everyone has a real opportunity to lead a thriving life.
CodeYourFuture (CYF) is a UK based non-profit organisation that trains some of the most deprived members of society to become web developers and helps them to find work in the tech industry.
CYF students are trained in full-stack web development by volunteers from the tech industry, putting a strong emphasis on collaboration and product development through tech projects.
CYF graduates work in companies like FT, BBC, STV, Ticketmaster and startups like Adzuna, Sensible Object, tlr and WeGotPop.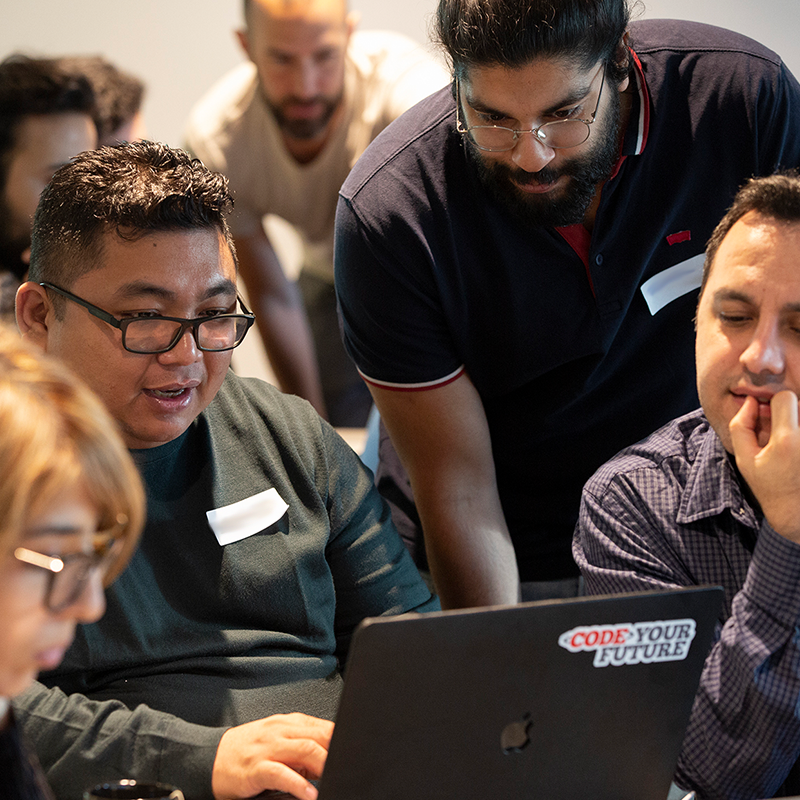 We believe in creating a supportive family where everyone belongs

Everything we do, we do with kindness and respect

We believe in the equality of all voices

We firmly believe that through challenge, people can achieve their best

We empower our students and volunteers, and they represent us

Everything we do creates a real impact in the world
Put Community first
Building a strong community is the most important thing. We build spaces where people meet, socialise and connect in a meaningful way.

Promote Self-organisation
Empowered teams organise sessions, workshops and events. Our community takes the lead, shares ideas and creates change together.

Believe in Collective intelligence
Individuals don't have all the knowledge, the collective does. We encourage open group discussions. We challenge our community to seek support and share ideas with the group, not with individuals.
Create Proactivity
Community members are not told what to do. We encourage our community not to rely on process and rules: trainees own their learning journey; volunteers take the lead and experiment.

Choose Simplicity
We avoid complex language and processes. We encourage our community to focus on the essentials in the way we communicate and act. We avoid complicated jargon and elaborate processes.
Act with Transparency
There's nothing to be kept away from the community*. We talk to people in open channels and in group meetings. We avoid direct messaging and private conversations as much as possible.
Show vulnerability
No one knows everything. No one is expected to have all the answers. We teach each other to be honest about our weaknesses and to ask for help, every day.