THE BEGINNING OF YOUR PROGRAMMING CAREER
Welcome to our community. Here, you have the opportunity to learn all the technical skills needed to become a professional developer.
During the course you will learn the whole web development stack, including HTML/CSS, JavaScript, React and Node technologies. We'll complement the training with workshops on modern software methodologies and job interview practices, and then we help you to find work.
Our 8-month web development program has proven a success, our graduates have gone on to work at companies like Capgemini, the BBC, PA Consulting, the Financial Times and Live Nation.
Quotes from our students:
"CYF builds your skills and leads you to a job"
Learn More
"A lovely, friendly environment to learn coding"
"It's not only a coding school, it's my family"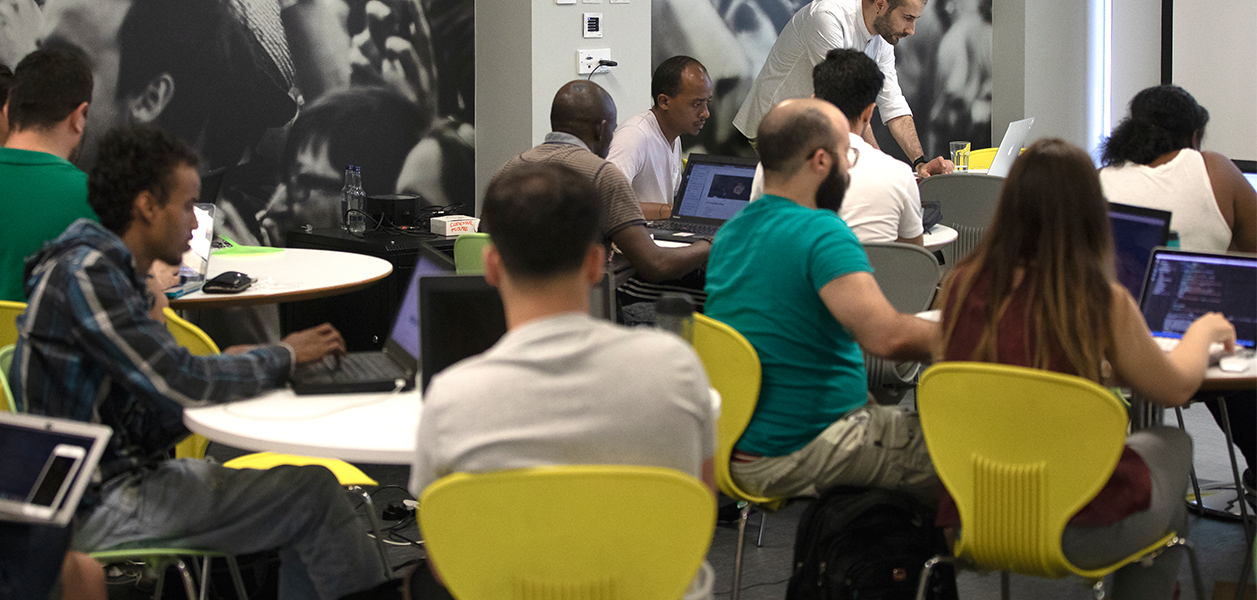 Read, write and speak English at a good level

Ready to commit to over 30 hours of learning per week

Availability for face to face sessions on weekends

Be over 18 years of age

You must complete the tutorials in our application process - first you register, and then you must complete the tutorials and tasks in on the application process website

You:

are an asylum seeker or a refugee or you

live below the local household poverty line or you

have been diagnosed with a mental or physical disability or you

face significant difficulties in getting the education you need to find employment
No coding experience is required!
There are two steps in the application process.
1. Complete the registration
2. Complete a series of tutorials. Although no previous coding experience is required, as part of the selection process, applicants are asked to learn the basics of coding. This is also a great way to find out if you enjoy coding.
Please note: most people take around two weeks to complete their applications. Some can do it sooner, but you should plan to spend 20-40 hours on your application.
From a computer/laptop/smartphone:
Register your details on below link, where you can also check your progress throughout the initial selection process.https://application-process.codeyourfuture.io/
Complete a first basic tutorial on CSS/HTML/JavaScript using SoloLearn (https://www.sololearn.com) app via Smartphone.
Complete a second tutorial for HTML/CSS on freecodecamp (https://www.freecodecamp.org) Responsive Web Design Certification excl. CSS Grid and Responsive Web Design Projects
Complete Tribute Page challenge
Complete Product Landing Page and receive feedback from mentors on how to improve it. Applicant Guide: here.
Complete at least first iteration of the Product Landing Page based on the Applicant Guide and Webpage Checklist.
Prepare a 300 words motivation letter before the interview with focus on software development industry opportunities. Once you have finished all the steps, we will ask you for your 300 word motivation letter, and you will be invited to attend an interview day.
Our Student Privacy Notice is available here.
MANCHESTER/NORTHWEST: applications have closed for the next class. Register to hear about future opportunities
GLASGOW: applications open for course beginning in March
BIRMINGHAM: applications open for late February 2020 class
LONDON: Class in progress. Register to hear about 2020 opportunities
You can complete our application process even after a class has started - we will consider you for the next class.
Apply now